Hopefully, you have set up the app, and had a look at our Advanced Settings (particularly the cool "Category" driven recording direct from your usual calendar app)
So here is your app at rest: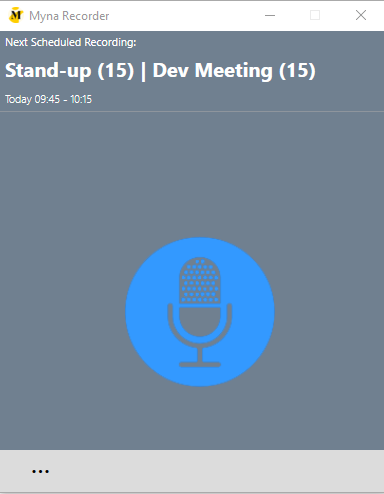 If you have connected your calendar, you will see your next scheduled recording at the top. If you haven't, or if you just want to start an ad-hoc recording, just click the big blue button to start.
The main screen will disappear, and you will see the Control Bar

If you have a scheduled recording, you will see this, with details of the meeting, and the scheduled end time

Audio Functions:
Mute Mic - This will mute the mic channel

Mute Speaker - This allows you to mute the speaker channel. You may need to do this is your other party(ies) does not want to be recorded, but you want a record of what you said

Stop - Stops all recording

You will receive a warning: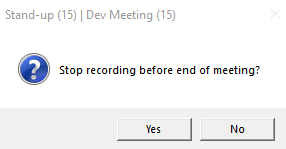 Pause: Allows you to pause a recording

Video Functions
You have the option to capture one full-screen window or your display while the meeting is recording. This is useful if someone shares a presentation that you want the VideoIQ system to analyse.

First, you need to pick the screen or window you want to record. Click on the orange picker button: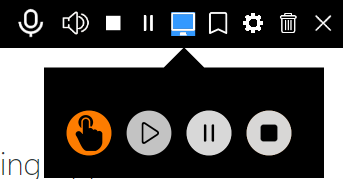 And then click "Use Picker" to select a screen or window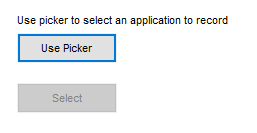 You will have the opportunity to pick a window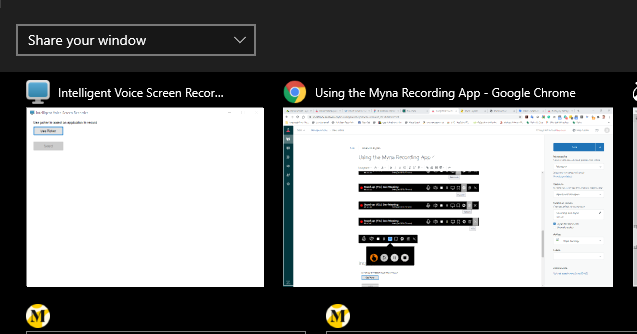 Or click on the dropdown, if you want to share a display

Once you have selected a screen or window, click "Select" to tell the recorder which window or screen you want it to capture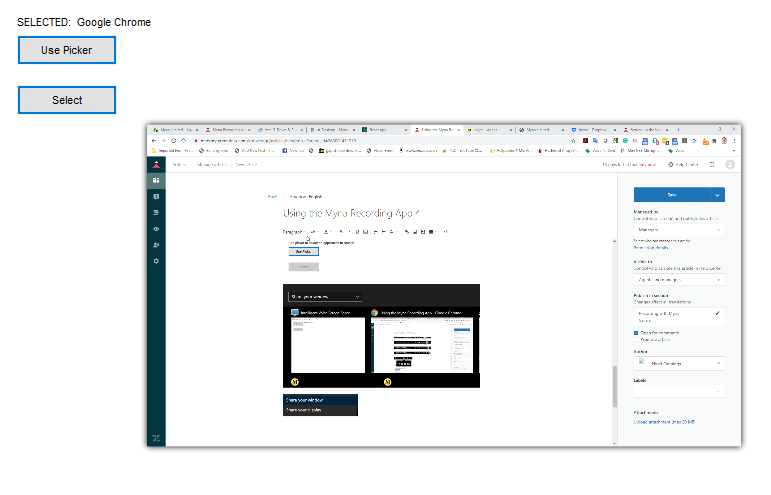 If the window is not full-screen, you will receive a warning. Resizing the window while it is recording may cause it to corrupt, so be warned!
When you are ready to record, click on the screen button below:

And click the now highlighted orange button to start recording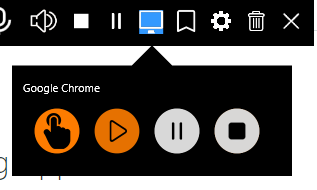 If you see the red light in the screen record button, you are now recording. The window being recorded will have a yellow border around it

If you want to stop the recorded, click the orange stop button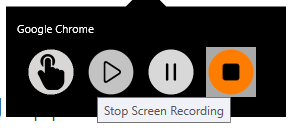 Other features
"Hot Button": If you want to mark a part of the meeting, so it is easy to refer back to later in your SmartTranscript, click on the Bookmark button

Options: You can change the meeting title (great for ad-hoc meetings), or override your default language for this meeting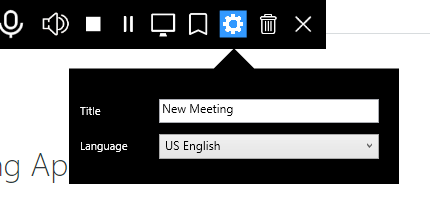 Trash: If a meeting has been recorded in error, or you just don't want to keep it, you can trash it and it won't be saved

Hide: This hides the Control Bar

If you need it back, click on the "Control Bar" button in the main recording window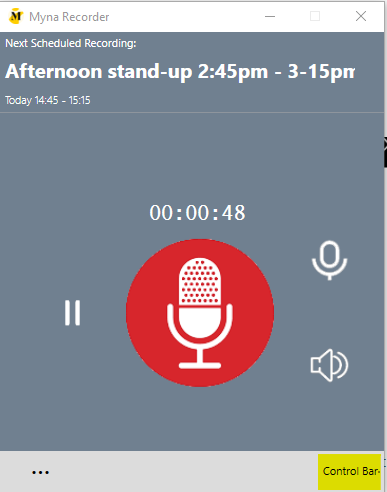 Extend: If your meeting is looking like it will overrun, you have the option to extend. The lead time before this pops up can be changed from the General Settings tab. Get more information here

Main Recording Window
This will always be running in the background. The blue recording button turns red while you are recording, and you have the pause, mute mic and mute speaker functions available. If you want to stop recording, just press the red button