Slack doesn't have a native recording capability, and because it is end-to-end encrypted, it has no cloud recording capability.
This means you need to use a local recording app to capture your audio and video.
And you need a way to get your data into Myna. So first make sure you have attached some Cloud storage to Myna. Need help? Read this guide.
Next, pick your recorder. If you are a Windows 10 user, we recommend the Myna recorder, but of course, you may have your own favourite platform.
Once you have configured your recorder to send your recordings to Myna, the rest is pretty simple.
First, click on the name of the person you want to speak to in Slack. In the top right-hand corner, you will see a telephone symbol like this (this is the "hover" view):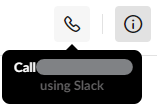 Click, and it will start a call with the other person. This is the time to start recording. Remember to stop when you have finished!
Change the record
One of the issues with local recording is that it is often difficult to find the recording later because you don't have any meaningful metadata. If you are using the Myna Recorder, you can quickly add a title to your meeting to make it easy to find later. Just click on the Settings button (the cog below in blue), and update the Title.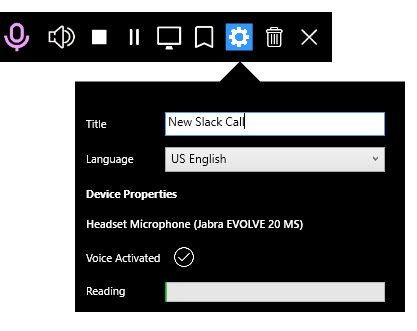 Once you click on the cog again, the meeting title will change from

to your new title

and this is what will be sent to Myna. Smart!